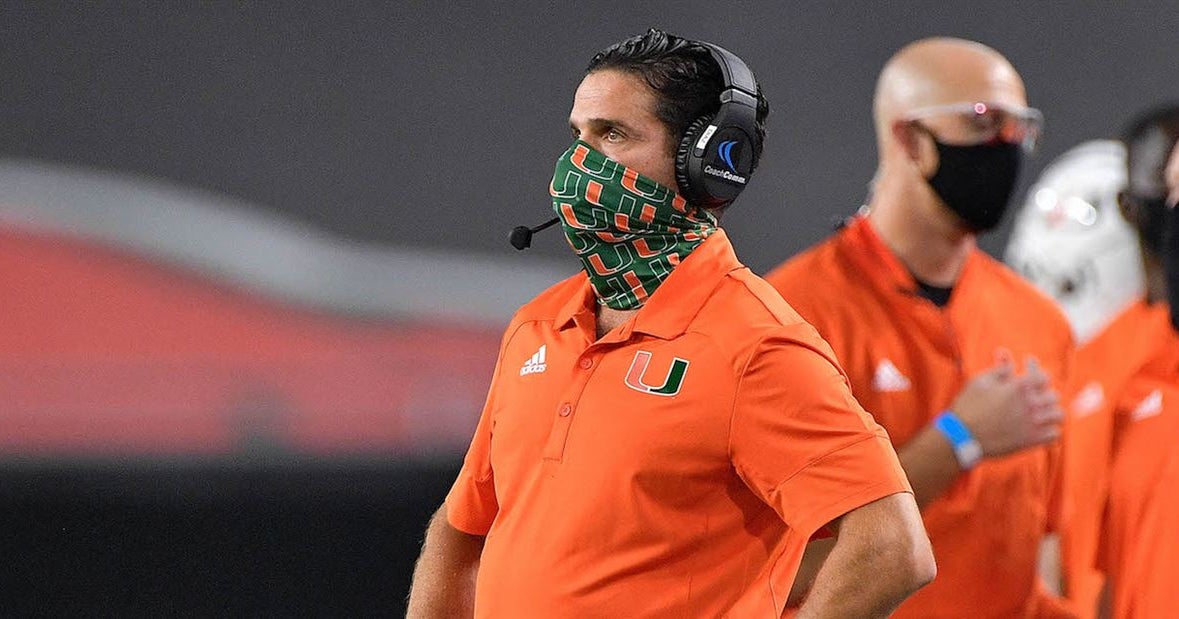 ESPN college football expert Tom Luginbill isn't quite ready to go all in on the 2020 Miami Hurricanes.
Luginbill admits he was impressed by UM's performance at Louisville this past weekend with the Hurricanes winning 47-34, but he feels like he needs to see more from the Hurricanes in 2020.
Luginbill wants to see how sharp Miami looks this week in a rivalry game against Florida State.
"Let's not forget, it is easy to get excited about Miami off of this last week, but it is also easy to not trust them yet," Luginbill said during an appearance on the ACC Network's Packer and Durham show. "Until they prove they can be trusted and handle success, that might play into Florida State's favor because they got nowhere to go but up. They have everything to gain and nothing to lose. All the pressure is on Miami right now."
One of the reasons why Luginbill is somewhat skeptical about the Hurricanes after the win at Louisville? He believes the Cardinals had a poor defensive performance, which allowed UM's offense to take advantage of easy opportunities.
Quarterback D'Eriq King threw for 325 yards and three touchdowns this past weekend, including a pair of explosive touchdown passes that were due to coverage busts by Louisville in the back seven.
"When you really peel back the layers, if he doesn't make some of those throws, he doesn't belong in Power Five football," Luginbill said of King's performance. "With what Louisville was doing on defense and the mental errors and their inability to cover backs out of the backfield and the play-action stuff, you had guys running wide open. I don't think you will see that this week. He is going to have to throw into tighter windows.
"I am looking at an offense that has confidence now. I feel like the marriage between Rhett Lashlee and the skill set of D'Eriq King is an ideal set-up. So far it has been. I think they were helped out a little bit last week though."
Luginbill also has questions surrounding UM's defense after Louisville ran for 164 yards and one touchdown while throwing for 307 yards and three touchdowns.
"If I look at Miami on the defensive side of the game, we have some holes to plug in the run game," Luginbill said. "I understand Louisville has some special talent when they get the ball in the hands of Javian Hawkins, but Miami gave up some big gainers on the ground. They have to shore that up."
Luginbill hints that the Hurricanes will face their biggest challenge of the 2020 season to date this week in Florida State, who is coming off a bye week to prepare following their 16-13 loss to Georgia Tech in the season opener.
"I think it is important for Florida State just to play well…something that shows incremental improvement from the opening week from Florida State so you are in position to win the game," Luginbill said. "Let me tell you something, Florida State's defensive front won't play the way Louisville did last week. I am still trying to figure out which gaps Louisville was playing on defense last week. I don't think you are going to have guys running wide open and busts along your front and in your back end with guys running free. I don't think you are going to see that….I think it is more important that they don't go out and lay an egg. Show that you are ready to compete, that you have some pride, and that you understand the magnitude of a rivalry game."
Again, Luginbill wants to see how the Hurricanes come out and play against FSU this week.
"I want to be excited about Miami, but I want to see how they handle everybody heaping praise on them because that has been a problem for this football team in recent memory," Luginbill said.