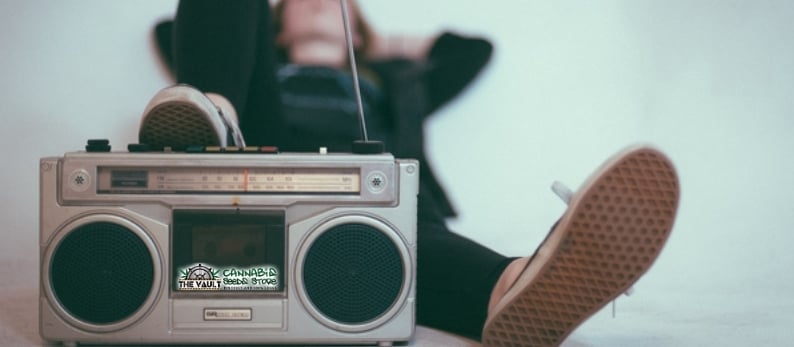 I don't know about any of you, but when I think of a really good smoke, it brings to mind a 70s basement, beanbag chairs, and Sunshine of Your Love by Cream on a record player. For decades we have been enjoying cannabis and music in tandem. Unlike watching a film or television listening to music and smoking allows the mind to wander, and the imagination to flourish. However, now there are so many different strains and so many different highs, how can we choose the perfect music for our weed. So I decided to take some of the most popular strains and find the perfects bands or songs to go with them. This article is purely designed with my own opinions in mind, and may not be perfect for everyone.
Northern Lights
Northern Lights is essentially a household name and probably a strain we've all enjoyed at one time or another. She is a classic that first came into being in 1985, so we really should honour her with something equally as classic. Her effects are uplifting, euphoric, happy but still relaxed and sleepy. She is a strain to be enjoyed sitting in a comfy chair, maybe in a sunbeam, appreciating some truly fantastic music. My recommendations for this strain are classic but complexly beautiful musicians or bands such as Jimmi Hedrix, Gypsy Kings, Santana, or if you're feeling a bit more bluesy maybe some Billy F. Gibbons or perhaps some Eric Clapton and BB King. In fact, I would recommend the entire Riding with the King album for this strain. This is the perfect strain to jam out to all and any classic rock so the opportunities are endless. If I had to go for a specific song I'd perhaps suggest Born Under a Bad Sign by Albert King or maybe Cocaine by Eric Clapton.
Sour Diesel
Another classic strain but something a touch more contemporary. Sour Diesel is well known for her energetic and uplifting effect that brings nothing but positive vibes. She is a tricky strain to pin down musically because it totally depends on your tastes. So I will throw out a variety of options in an attempt to cover everyone.
For my punk fans out there she is the perfect strain for really enjoying the power and brutality. Personally, I love this strain with Siouxsie and the Banshees for their psychedelic flowing feel or maybe a little bit of Misfits for something upbeat and headbangy. Of course, if we want that classic 80s feel we should probably throw in Dead Kennedys for good measure.
For my new romantics, I'd have to say a touch of Plastic Bertrand, famous for Ca Plane Pour Moi, or perhaps go classic with the B 52s or The Human League.
For anyone who doesn't care about the genre but just wants to feel themselves, as the kids are saying, here are a few bands that are just perfect for feeling good. I have to say Lizzo is always perfect for dancing around the house and just being generally excited about your existence. I would also recommend Tank and the Bangas, Deap Valley, Rubblebucket and perhaps CHVRCHES.
LSD
Time to get truly psychedelic with a little bit of LSD. I am of course referring to the cannabis strain but you do you, I don't judge. The general tv idea of being high is always trippy, psychedelic and very visual so let's have a look at the perfect music. Obviously, Jefferson Airplane White Rabbit is the very first song that comes to mind. Basically, if you like you can just listen to that over and over for hours, I think it would actually be pretty enjoyable. If we are after something a little different Tash Sultana is one of my favourites for lying back and just experiencing the space around me. This is where we come back to some of the more classic bands such as Fleetwood Mac, Grateful Dead, Iron Butterfly, Frank Zappa, Captain Beefheart and his Magic Band, and of course Pink Floyd. Sometimes it's fun to just hang out and be a big old stereotype.
If we want some more modern psychedelic music we have The Flaming Lips, Tame Impala, King Gizzard & the Lizard Wizard, and DJ Xander because who doesn't love loop pedals.
Trainwreck
Finally for something deeply relaxing and perfect for bedtime. For a strain this chill we need plenty of soft folk, maybe a little gentle psychedelic pop, a touch of indie. All the sorts of music that you can just close your eyes to and let the visuals flow delicately through your brain. I would have to say that my number 1 chill out music has to be Glass Animals, especially the song Gooey. If we want something a little less trippy the Laura Marling album Once I Was An Eagle has always been my go-to bathe and relax album. We can go old school with some of the less intense Avalanches songs or maybe some Gregory Porter for a little chill blues. For those relaxed moments that just need a touch more melancholy The National is always a good choice. I would also strongly recommend Cat Power, Scout Niblett, Lisa Hannigan, and Listener. Listener is particularly good for anyone who likes what is essentially spoken word poetry with music.
Sometimes it's nice to go really very classic with a chill out nighttime strain and just listen to instrumental Spanish guitar or even a touch of classical music to fully destress the body.
I could do this forever but I haven't space, so these are just a few options for anyone looking for a new way to enjoy music with their highs. Again this is all based entirely on my taste in music and I'm sure many of you out there already have bundles of wonderful recommendations that I haven't even touched on. Music is a magical and varied thing, we should continue exploring because there is always something new to find.
Remember: It is illegal to germinate cannabis seeds in many countries including the UK. It is our duty to inform you of this fact and to urge you to obey all of your local laws to the letter. The Vault only ever sells or sends out seeds for souvenir, collection or novelty purposes.
Make sure you never miss another Vault promo and sign up for our newsletter at http://goo.gl/Bt2Ba2
*Image by Unsplash