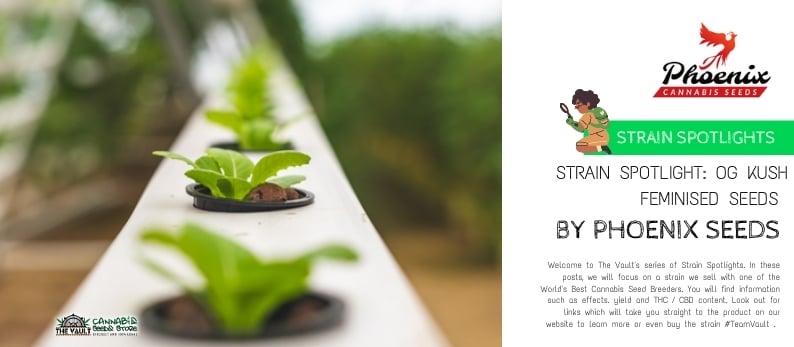 Name: OG Kush Feminised Seeds
Breeder: Phoenix Seeds
THC Level: 16%
Effects: Happy, Relaxed, Euphoric, Uplifting, Sleepy
Yield: Medium
Flavour: Dark, Tangy, Sweet, Skunk, Spice
OG Kush is iconic, which most of us will already be well aware of. OG Kush is synonymous with fantastic weed and is both a wonderful medicinal and recreational strain. It is well known all over the world for its unique flavour and scent, its legendary high and its impressive genetics. There are very few strains that can compare to OG Kush and very few that have the same level of legacy. OG Kush was not only an incredible boon for medicinal weed but gave breeders something to really create with.
Background
This strain first came to the market in the 90s, an excellent era for new strains. As soon as it did it took off like a rocket due to its fantastic genetics. OG Kush was created by combining Pakistani Kush, Lemon Thai and Chemdawg. It was cultivated in Florida but quickly spread across the world, becoming a base for several new and fantastic strains such as Ghost OG, Tahoe OG and SFV OG. It first came to Los Angeles in 1996 where it was purchased by breeder Matt Berger. It was crossed with famous strain The Bubba to create Bubba Kush and this was what launched it into the strain hall of fame.
Effects
OG Kush is a delightfully uplifting and happy strain with hits of relaxation, euphoria and a touch of sleepiness. For recreational purposes, this makes it a fantastic day or night strain, but especially good for lazy Sundays in front of the TV. Medicinally this strain is used by those suffering from Parkinson's, Depression or PTSD as well as generally for depression, stress and anxiety. Strains like this have made a huge difference to the advancement of medicinal weed purely due to their success rate.
Flowering Time and Yield
This version of OG Kush has a very short flowering time of just 8 weeks. This is ideal for growers who want to try for more than one crop per season. Yield-wise this is a great example of quality over quantity. Though the yields are usually moderate the buds are compact, beautifully scented and covered in a thick layer of resin crystals.
Flavour
The flavour and scent of this strain are one of the reasons they are considered to be so unique. The flavour profile when it was created was unlike anything people had tasted before. A combination of sweet tangy spice and dark woody skunk that dances on the taste buds. The scent of the strain is as relaxing and calming as incense, adding an extra dimension to the enjoyment of the smoke.
Remember: It's illegal to germinate cannabis seeds in many countries. It is our duty to inform you of this important fact and to urge you to obey all of your local laws. The Vault only ever sells or sends out seeds for souvenir, collection or novelty purposes. All of our content is provided for educational purposes only.