Easter Edible Recipes With Cannabis
It's not really fun unless you have Easter Edible Recipes With Cannabis, is it?! Start some new traditions and step aside Easter bunny – we've got better treats here!
In today's blog we have hand-selected the best Easter-inspired cannabis-edibles recipes to enjoy with your friends and loved ones.
Easter can be such a fun and wonderful time of the year – and whether or not you celebrate it for Religious reasons, or just for the yummy chocolate – the intent is uniform across the board: to have fun and enjoy!
Maybe, just maybe, this year is the year to start new traditions and incorporate some yummy weed edibles into your Easter celebrations?
From eggs to chocolate, and everything in between – try out our cannabis -infused Easter-themed recipes below.
We've got the top four recipes we think you're going to hop for!
---
#1. Cannabis-Infused Deviled Eggs
These bad boys are always a huge hit – bite sized, creamy, and full of flavor!
Plus? They don't take long to make.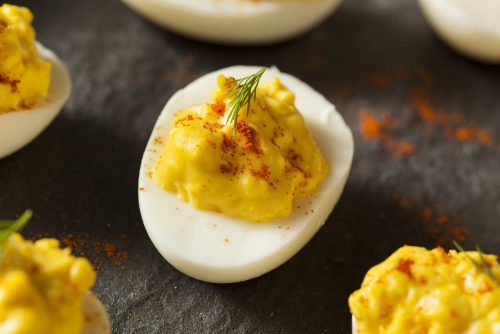 Calories: 200kcal
THC: 64 – 128mg for all the eggs
Ingredients
Instructions
Place eggs in a saucepan and cover with cold water. Bring water to a boil and boil eggs for 10 to 15 minutes. Remove eggs from boiling water and place in a medium saucepan of cold water until cool.

Remove the shells and cut the eggs lengthwise to remove the yolks. Place yolks in a medium sized mixing bowl.

Mix in the mustard, Cannabis Oil, mayonnaise, garlic salt and onion powder with the egg yolks. Scoop the mixture into the hollowed out areas of the egg whites. Garnish with paprika. Refrigerate at least one hour before serving.

Serve the Cannabis Deviled Eggs
Nutrition
Calories: 200kcal | Fat: 20g
---
#2. Cannabis Easter-Eggs
Who says kids get to have all the fun on Easter?
Fill these hollow chocolate eggs with candies, weed edibles, weed gummies or any other treat you like!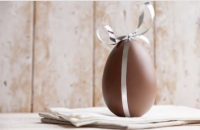 Calories: 200kcal
Ingredients
Instructions
In a large bowl, put in your chocolate and cannabis butter.

Half-fill a small pan with water and bring to a gentle simmer over a low heat. Rest your bowl with chocolate on top, then allow to melt, stirring occasionally.

Using oven gloves, remove the bowl from the heat and leave to cool to 35ºC. Check the temperature with a cooking thermometer.

Spoon the chocolate into your mould, one tablespoon at a time, tilting the mould so the chocolate covers the surface. Don't worry if you make a mess! Tip any excess chocolate back into the bowl.

Allow the chocolate to cool slightly, then, using a butter knife, scrape around the rim of the mould to get a clean edge.

Meanwhile, repeat steps 4 to 6 with the second mould.

Lay out some greaseproof paper and place the mould flat-side-down on top for 15 minutes, or until the chocolate has completely set.

To remove your eggs from their moulds, squeeze the casing gently, working your way around the edge (the warmth from your hands will help).

Brush the remaining melted chocolate around the rim of each of the chocolate egg halves, then gently press them together so they stick in place. Leave for a few minutes until the chocolate sets, then it's ready!
Nutrition
Calories: 200kcal | Fat: 20g
---
3. Classic Chocolate Cannabis Brownie
Yes, they are a classic, but with this recipe, you can sprinkle those tasty little mini-eggs on top for an Easter-themed treat that everyone will love!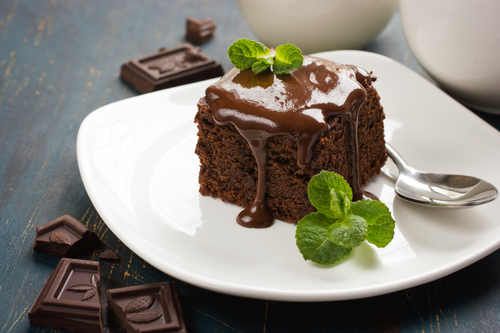 Calories: 200kcal
THC: 175 – 350 MG Per batch
Ingredients
1/4

Cup

Cannabis Butter

1/4

Cup

Normal Butter

1

Teaspoon

Vanilla Extract

1/3

Cup

Unsweetened Cocoa Powder

1/2

Cup

All-Purpose Flour

1/4

Teaspoon

salt

1/4

Teaspoon

Baking Powder

For

The

Frosting:

3

Tablespoons

butter, Softened

1

Teaspoon

Cannabis Butter, Softened

1

Tablespoon

Honey

Also

1

Teaspoon Vanilla Extract

1

Cup

Confectioners Sugar
Instructions
Preheat oven to 330 degrees F (165 degrees C). Grease and flour an 8-inch square pan.

In a large saucepan, on very low heat melt 1/4 cup butter and 1/4 cannabis butter. Remove from heat, and stir in sugar, eggs, and 1 teaspoon vanilla. Beat in 1/3 cup cocoa, 1/2 cup flour, salt, and baking powder. Spread batter into prepared pan.

Bake in preheated oven for 25 to 30 minutes. Do not overcook.

To Make Frosting: Combine 3 tablespoons softened butter and 1 teaspoon cannabis butter, Add 3 tablespoons cocoa, honey, 1 teaspoon vanilla extract, and 1 cup confectioners' sugar. Stir until smooth. Frost brownies while they are still warm.

Serve the Chocolate Weed Brownies
Nutrition
Calories: 200kcal | Fat: 20g
---
4. Easter Breakfast With Weed
Start out with a nice hot cup of CBD coffee, and then enjoy a big fat breakfast or brunch of pancakes with your weed-loving buds!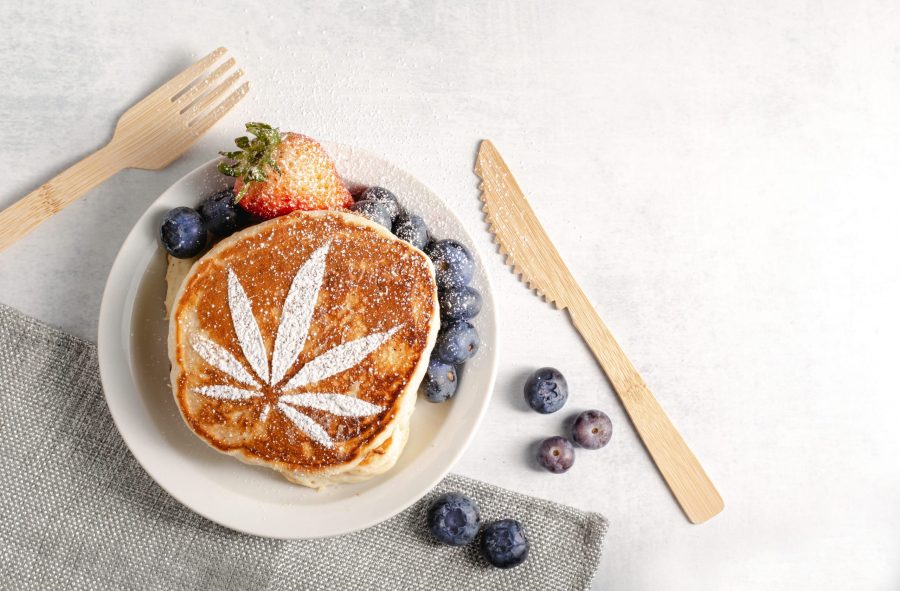 If you're looking to up-level your canna-cooking game, you may want to start here.
For more recipes like this one, check out our recipe index here.
Share our post and comment below! We'd love to hear from you.
As always, happy canna-cooking!