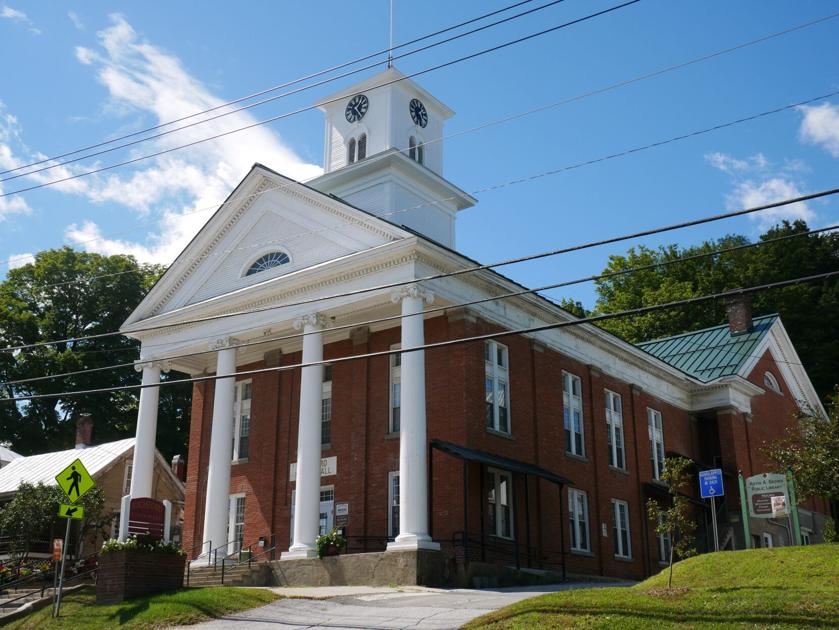 On Town Meeting Day, voters in Montgomery and Richford will decide whether or not their municipalities should allow for recreational marijuana businesses to set up shop. What seems like a cut and dried issue to some is anything but.
The rollout follows the passing of S.54, Vermont's bill to legalize, regulate and tax cannabis sales, which passed in September of last year.
Montgomery Selectboard Chair Charlie Hancock says that two residents came to the board a couple months back with the idea.
"They were essentially advocating for us to put it on the ballot. The board kind of discussed it and said, 'Look, we don't think there's a need to have a petition on this, we think this is something that's a good question to put before the voters,' and that's what we did," he said.
With the Canadian border closed and tourism dwindling, Hancock says that Montgomery saw this as one more way to spur economic development in the town.
"I don't think we're looking at this in the manner of, 'Hey, we want to become like the Boulder, Colorado of weed tourism,' but I really do think it's more kind of like one piece of the puzzle," says Hancock.
On the other side of town, Richford has hired a team of economic development coordinators to work on ways to bring the community back. This includes finding grants to get additional community funding and helping local businesses get what they need to survive.
Levi Irish is one of those coordinators.
"I think when we look at the history of how we got here … in the '60s and '70s people moved away and then we lost some of our properties," he said in an interview. "… We have an inordinate amount of tenant properties but when the railroad stopped and we closed the furniture factory … you know we're seeing all these issues."
According to DataUSA, Richford's poverty rate is 15.2%. That's 2% above the national average.
"My hope would be that our entire community benefits from it based on businesses coming into the communities as well as our storefronts, because right now we look like a ghost town," says Irish.
Vermont's cannabis law
In passing S.54, the state considered two options: an opt-in or an opt-out. An opt-in would put any decision to be involved in the law up to the towns, and would allow them to create their own system of rules. With an opt-out, once it becomes law, every county or town is open to gain from whatever that law is. The town has the option to hold a vote to step away from the industry and say this is going to be a "dry" county, essentially.
The state chose the opt-in provision, so towns must vote on the issue before offering their own, local licenses to businesses.
Bernardo Antonio is on a mission to let people know that fairness and equity in the cannabis industry is far from a sure thing. He and other members of the nonprofit Vermont Grower's Association have been going town to town, working with local governing bodies on adjusting language in their legislation.
"Let's say the VGA didn't exist and we hadn't been harassing people for three months and we hadn't gone to all these towns and hadn't written up language that was universal so people could take it to their town offices. What you would have right now is only the towns that host the dispensaries would have options. It's just crazy to me," says Antonio.
He also says that an opt-in drastically reduces the number of towns where business can operate.
"If it's an opt-out, all of Vermont is fair game and you'd have maybe five or 10 towns opting out. If they opt in, you have the exact opposite — none of the towns are fair game and only the ones where people do a ton of legwork to get those towns to accept it aren't," he said.
Vermont has five large medical marijuana dispensaries: Grassroots Vermont, Phytocare Vermont, Southern Vermont Wellness, Vermont Patients Alliance and Champlain Valley Dispensary. Bernardo says that Champlain Valley is the only dispensary actually financed by a company located in Vermont.
"Owning farmland doesn't give you an advantage in this game. The only thing that gives you an advantage in this game is having millions of dollars and owning a large warehouse," says Antonio.
The bill confines cannabis growing operations to 1,000 square feet of land. Language in the bill also changed the definition of cannabis from an agricultural product to a commercial good. Antonio says, as a result, the law has no provision that allows farmers to produce, and allows no tax breaks for farmers.
The new law also gives these companies a head start. They can apply for licenses and sell products to the public about five months earlier than the new retail sales companies, he said.
"Who benefits from an opt-in provision? Cause seemingly no one benefits. Businesses don't benefit … the towns don't benefit because it's more work for them. The state doesn't benefit because it's reducing its tax intake by reducing the amount of stores … The winner is these out of state multi-state operators that currently own our medical dispensaries," says Antonio.
While it's still early in the process, Hancock says that he's welcome to any type of outreach from the community.
"We certainly haven't had anyone reach out to the board or me personally expressing any type of angst of negative feelings about it. A lot of folks are still kind of just getting around to looking at the town reports," he said.
Town Meeting Day in Richford and Montgomery is held on Tuesday, March 2.